Our team of professionals will get the job done right the first time, every time.
Frequently Asked Questions
How much does a Polyaspartic coating installation cost?
Being privately-owned and operated, we can provide higher quality work without the extra fees and overhead costs like a franchise company or corporation. We focus our prices on the quality of our materials and the training and care of our team. That being said, there are many variables to the cost of a Polyaspartic flooring installation. Our pricing can range anywhere from $5.50 per sq.ft. to $7.50 per sq.ft. depending on the condition of the concrete, size or the project, and your location.
Your best bet is to contact us directly to discuss the details of your project and get an accurate price estimate that is unique to you. 
What type of coating system do you use?
We use a tried and tested, 3-step flooring system consisting of a high-solids pigmented Polyaspartic base coat, decorative traction flakes, and clear Polyaspartic topcoat. Our industrial-strength Polyaspartic base coat is 3-times more adherent and moisture-resistant than leading competitors, making our floor coatings less likely to peel or chip over time. You get to choose from one of our 250+ premade flake color blends or fully customize the perfect color blend for your project. Our next-generation Polyaspartic topcoat is high-gloss, UV resistant (non-yellowing), abrasion, and chemical resistant, giving it the beautiful and durable finish that your project deserves.
Why does it tak​e 2 days for installation with NuWave, but other companies do 1-day installations?
It's simple: we care about the quality of your floor and want it to last a lifetime. We will never cut corners and can ensure you love your floor for years to come. We allow ample time for the product to cure so you are truly getting what you pay for. 
Here's what to expect during your flooring installation:
Thorough preparation of the concrete, any necessary repairs, application of the pigmented polyaspartic base coat, and application of the decorative flake of your choice.
From grinding the concrete to correcting imperfections, preparation takes up about 80% of our time during the installation. Thorough preparation of the concrete is critical in ensuring the proper adhesion of our product.
We allow a minimum of 12 hours for the base coat and flake application to cure to ensure the toughness and durability that will last for years to come.
Perfecting the decorative traction flake layer, application of the clear Polyaspartic topcoat, and final touches.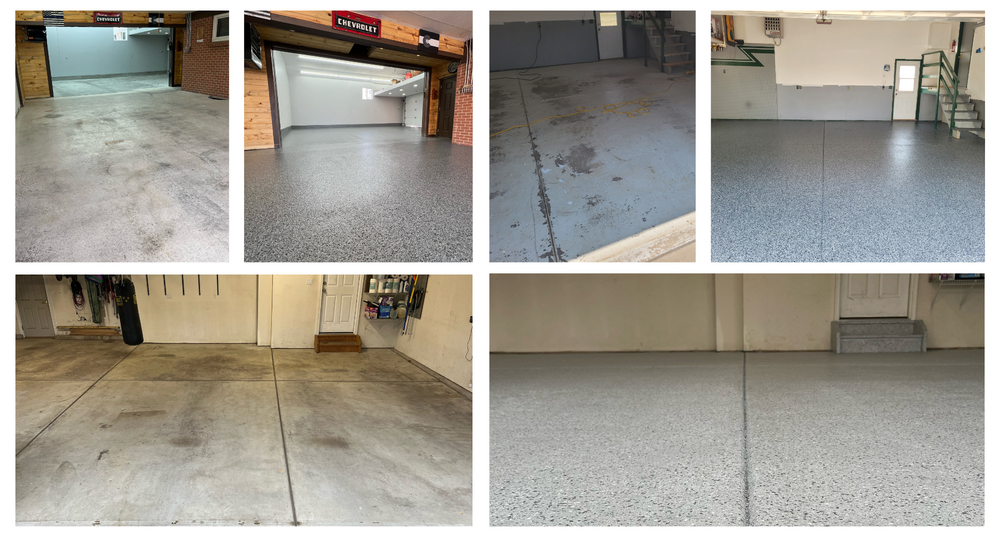 Does your work come with a warranty?
Yes! Every installation comes with a Lifetime Warranty on any interior work like garages and basements, and a 10-year Limited Warranty on exterior work like patios.
Do I have to have everything off of the floor for the day of installation?
Yes, any non-permanent items must be removed prior to the start of installation. We are now working closely with a local moving and storage company to help keep your belongings safe and secure during your flooring installation. This is a third-party service. Contact us for more options.
How soon can you start using your new floor after the installation?
We want to ensure your concrete coating can cure fully. Below is a general rule of thumb:
1 Day (24 hours) after completion:

***DO NOT USE***
Do not walk on or set any objects on the floor. Doing so will result in failure of the Polyaspartic coating system to properly adhere and may create a visual defect in the surface of the coating.
2 Days (48 hours) after completion:

**LIGHT USE**
Light foot traffic and moving in light items that weigh less than 100lb is ok.
Parking vehicles or placing heavier objects on the floor is strongly discouraged and result in failure of the Polyaspartic system to properly adhere and may create a visual defect in the surface of the coating.
3 Days (72 hours) after completion:

*NORMAL USE*
Parking vehicles and replacing heavy items that weigh more than 100lb is ok.
Return to normal use. The Polyaspartic system is fully cured and properly adhered to the concrete.
Where can you apply Polyaspartic concrete coatings?
Any concrete area! Some examples include:
Garage floors

Basements

Patios

Sunrooms/Greenhouses

Pool Decks

Clean Rooms/Mud Rooms

Workshops

Balconies

Recreation Rooms

Shower Stalls

Walkways

Hallways

And More…
Dog Kennels

Veterinary Clinics

Animal Facilities/Shelters

Hospitals

Showrooms

Greenhouses

Laundromats

Retail Stores

Bars/pubs/taverns/night clubs 

Restaurants/kitchens

Corridors/hallways

Restrooms

And More…
Most coatings require a rough surface to form a mechanical bond. Coval Coatings are created from a polymer that interacts on the molecular level to chemically bond and link to the surface regardless of the surface's roughness or porosity. This high-tension crosslinking creates an entirely new surface that is strong, waterproof, and highly resistant to abrasion, acids, stains, mold, and corrosion. Coval uses covalent bonding technology to produce a range of thin, clear, durable coatings that bond to nearly any substrate. The unique abrasion, chemical and corrosion resistant properties of Coval coatings makes them long lasting, cost effective, and a more sustainable choice over traditional coatings and paints. All Coval coatings also effectively protect surfaces from graffiti.
Where can Coval be applied?
Coval is the most universal coating on the market. It can be used in just about any application that traditional sealers, epoxies, urethanes, or other coatings fall short.
Bare concrete

Stained concrete

Polished Concrete

Natural Stone

Fiberglass

Metal

Vinyl
Composite

Wood

Painted surfaces

Signage

Artwork

Buildings

Infrastructure

And more…
Have a Question We Didn't Answer?